Firefighters prepare a defensive attack at a 6-alarm fire at 22 W. Baltimore St. in Lynn, Mass. on January 1, 2017.
Boston, Mass. - Boston Celtics' mascot Lucky the Leprechaun does a dunk in front of the new JetBlue Celtics branded jet inside of the JetBlue hangar at Logan International Airport on Monday, May 7th, 2018.
Senator Bernie Sanders, an independent from Vermont and 2016 Democratic presidential candidate, speaks during a campaign event at the Colonial Theater in Keene, New Hampshire, U.S., on Tuesday, Feb. 2, 2016. Just hours after the last voters walked away from Iowa's caucuses, the center of the reshaped 2016 U.S. presidential race shifted to New Hampshire, where Hillary Clinton wasted no time touting her victory over Sanders by less than a percentage point.
Firefighters battle a 3-alarm fire on Bruce Pl in Lynn, Mass. on December 4, 2015. Four occupants died in the blaze.
Massachusetts State Police officers struggle with protesters who chained themselves inside of concrete filled barrels on Rt 93N in Milton, Mass. on January 15, 2015. They blocked traffic for over an hour while emergency officials worked to remove and arrest them.
Music teacher Arturs Weible, right, is helped by two students as he takes boxes of teaching material from his classroom to his truck at the Jean de Lafayette Elementary School, on the final day of school Wednesday, June 19, 2013, in Chicago. Lafayette is one of 50 schools scheduled to close as a cost cutting and consolidation measure by the Chicago Board of Education.
Supporters of Donald J. Trump waited for him to take the stage at a high school on January 5, 2016 in Claremont, N.H.
Republican Presidential candidate Donald Trump talks on stage at Ernie Boch Jr.'s annual summer bash and fundraiser in Norwood, Mass. on Friday, August 28, 2015.
Democratic presidential candidate and former secretary of state Hillary Clinton is interviewed by NBC Today Show's Savannah Guthrie in Hollis, New Hampshire on Monday, October 5, 2015.
Pedestrians cross the street amongst vintage cars in Havana, Cuba on March 27, 2013.
Supporters cheer while holding up signs and U.S. flags during the official kickoff to Senator Bernie Sanders' presidential campaign in Burlington, Vermont, U.S., on Tuesday, May 26, 2015. Shortly after declaring himself a presidential candidate, Sanders pledged to enact a Supreme Court litmus test if elected whereby he would not nominate judges who did not promise to overturn the Citizens United decision which ruled that the First Amendment to the Constitution prevented the government from restricting the amount of money that corporations and unions can spend on elections.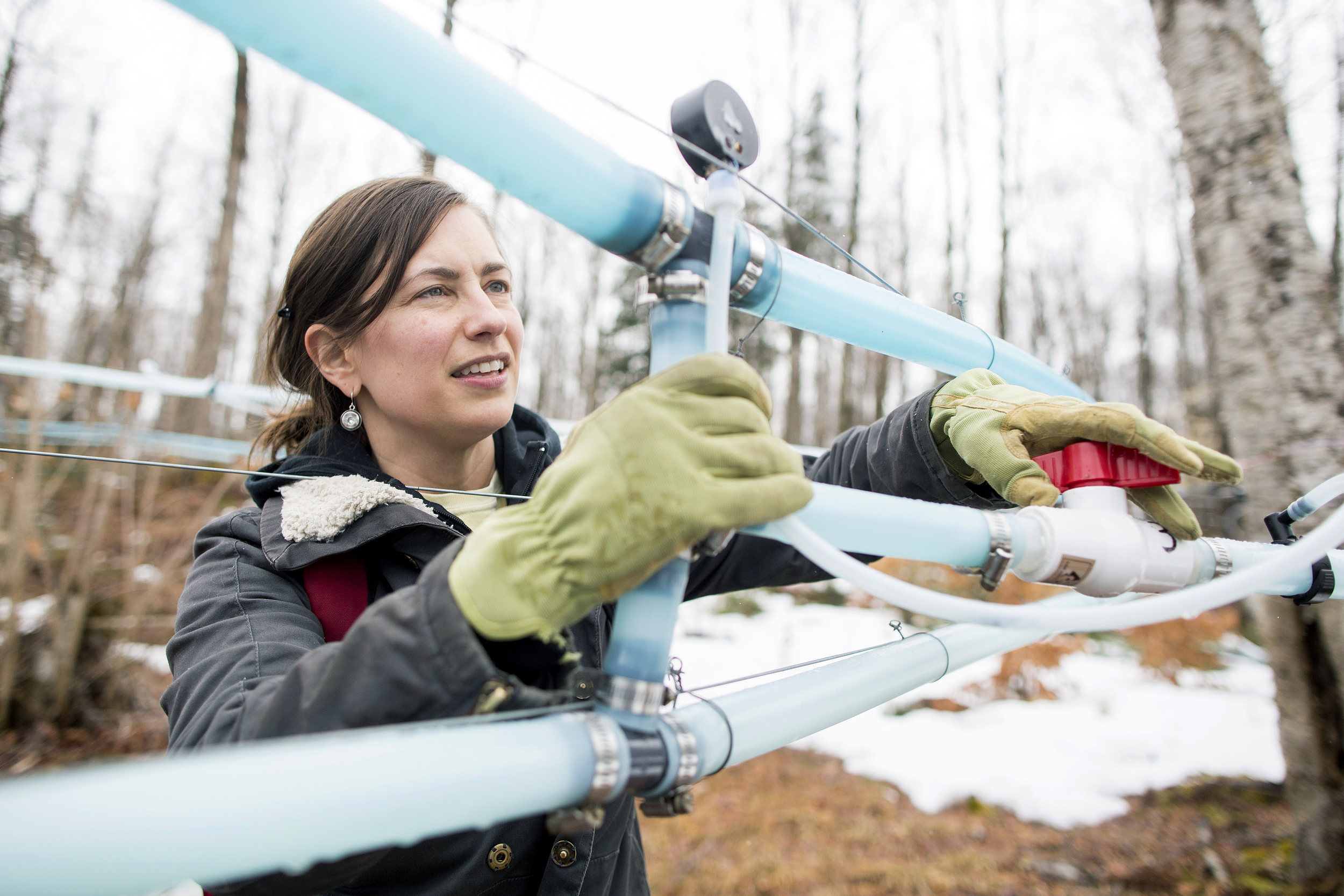 April Lemay checks the pressure in a vacuum line that carries maple sap at April's Maple in Canaan, Vermont, U.S., on on Thursday, April 23, 2015. Lemay took a year's leave from her position as a partner at the Boston office of Deloitte LLP to see if making maple syrup rather than advising the nation's largest asset managers is her singular calling.
Firefighters fight a 3-alarm fire at 77 Reservoir Ave in Revere on Friday, Feb. 6, 2015. One person died, and multiple people were rescued from the blaze.
NEW CASTLE, NH - MAY 9: U.S. Sen. Marco Rubio (R-FL) addresses the New Hampshire Rockingham Committee Freed Founder's Dinner on May 9, 2014 in New Castle , New Hampshire. Rubio visited the state as he weighs a 2016 presidential run.
Police investigate a double-fatal rollover accident on Commercial St. in the North End neighborhood of Boston on Friday, June 12, 2015.
Firefighters and emergency medical personnel rush a firefighter from the scene of a multi-alarm fire at a four-story brownstone in the Back Bay neighborhood near the Charles River, Wednesday, March 26, 2014, in Boston. The fire left two firefighters dead and over a dozen injured.
Boston, Mass. - Residents and tourists flee the area of Boylston and Dalton Streets where the parking garage attached to the Hilton Hotel at 40 Dalton St., was engulfed in flames where a electrical substation was housed. The fire ended cutting power to most of the Back Bay and South End areas of the city.
Miami's Angel Rodriguez attempts to dodge Boston College players during a game at Boston College on Monday, Feb. 16, 2015.
Detroit Tigers' Austin Jackson, left, reaches first on a throwing error by Chicago White Sox third baseman Conor Gillaspie to first baseman Jeff Keppinger, right, during the sixth inning of a baseball game Wednesday, Aug. 14, 2013, in Chicago. Matt Tuiasosopo and Omar Infante scored on the play.
Dale Earnhardt Jr. performs a burnout in front of the Chicago Theatre in Chicago, Monday, Aug. 12, 2013. A triple header chase weekend starts at the Chicagoland Speedway Sept. 13.
People who knew the victim of the fatal stabbing console each other at the scene where he was found at N. Main and Court Streets in Brockton on Sunday, July 20, 2014.
In this July 10, 2013, photograph, members of the Blue Man Group perform at the Briar Street Theatre. Blue Man Group, which started with three friends in New York more than two decades ago, has grown from an off-Broadway show to also have productions in Boston, Chicago, Las Vegas and Orlando, Fla. A tour will soon take the blue men to stops in cities like Atlantic City, N.J.; Durham, N.C.; Lincoln, Neb.; Corpus Christi, Texas; Portland, Maine; and Kennewick, Wash.
In this July 10, 2013, photograph, current members of the Blue Man Group, from left reflected in the mirror, Scott Bishop, Eric Gebow and Collin Batten prepare to get into character backstage at the Briar Street Theatre. The Blue Man Group recently held open auditions in Chicago hoping to add to their recently expanded shows throughout the world.
Jojo Claudio, 5, of Brockton reaches for the next bar on the monkey bars at James Edgar Playground in Brockton on Tuesday, July 8, 2014. The park features slides, monkey bars, swings, and a splash pad.
BOSTON, MA - DECEMBER 4: Police struggle with protesters as they try to get closer to a building during the Boston protest following the verdict of the NY Grand Jury in the chokehold death case.
Firefighters from both Quincy and Boston, Mass. fight a 4-alarm fire at the Masonic Hall in Quincy, Mass. on Sept 30, 2013.
A "FlyBoard" instructor flies in Plymouth Harbor in Plymouth, Mass. on Friday, Sept. 27, 2013. This new sport that uses the water jet from a jet ski is the first of it's kind on the South Shore of Massachusetts.
A snowboarder catches air as a resident sleds down the street after Winter Storm Nemo in Boston, Massachusetts, U.S., on Saturday, Feb. 9, 2013. More than two feet of snow fell on parts of the U.S. Northeast as high winds left hundreds of thousands of people in the region without power, closed highways and forced the cancellation of 4,700 flights.
Riza Pereia dances with a flag during the Cape Verde Festival in Brockton on Sunday, July 27, 2014. Despite the foul weather, many came out to enjoy the dancing and music.
Fans celebrate on West Division Street in Chicago on Monday, June 24, 2013 after the Chicago Blackhawks won the NHL hockey Stanley Cup Finals on Monday, June 24, 2013. The Blackhawks defeated the Boston Bruins 3-2 in Game 6 to win the championship in Boston.
East Bridgewater's Patrick Snow is tackled during practice in East Bridgewater on Tuesday, Nov. 4, 2014.
MARISSA CASTELLI and SIMON SHNAPIR, 2014 U.S. Olympic Team Bronze Medalists, perform during the 102nd Ice Chips Show of Champion at Agannis Arena at Boston University on Sunday, April 6, 2014.
Detroit Tigers' Miguel Cabrera hits a three-run home run off Chicago White Sox starting pitcher John Danks, left, also scoring Austin Jackson and Bryan Holaday, during the third inning of a baseball game Wednesday, Aug. 14, 2013, in Chicago. The White Sox catcher is Tyler Flowers.
Little Compton, R.I. - Researchers examine and dissect a Great White Shark that washed up on Goosewing Beach in Little Compton, Rhode Island September 1, 2012. The team of researchers estimated the 13 ft shark to weigh around 1,600 lbs.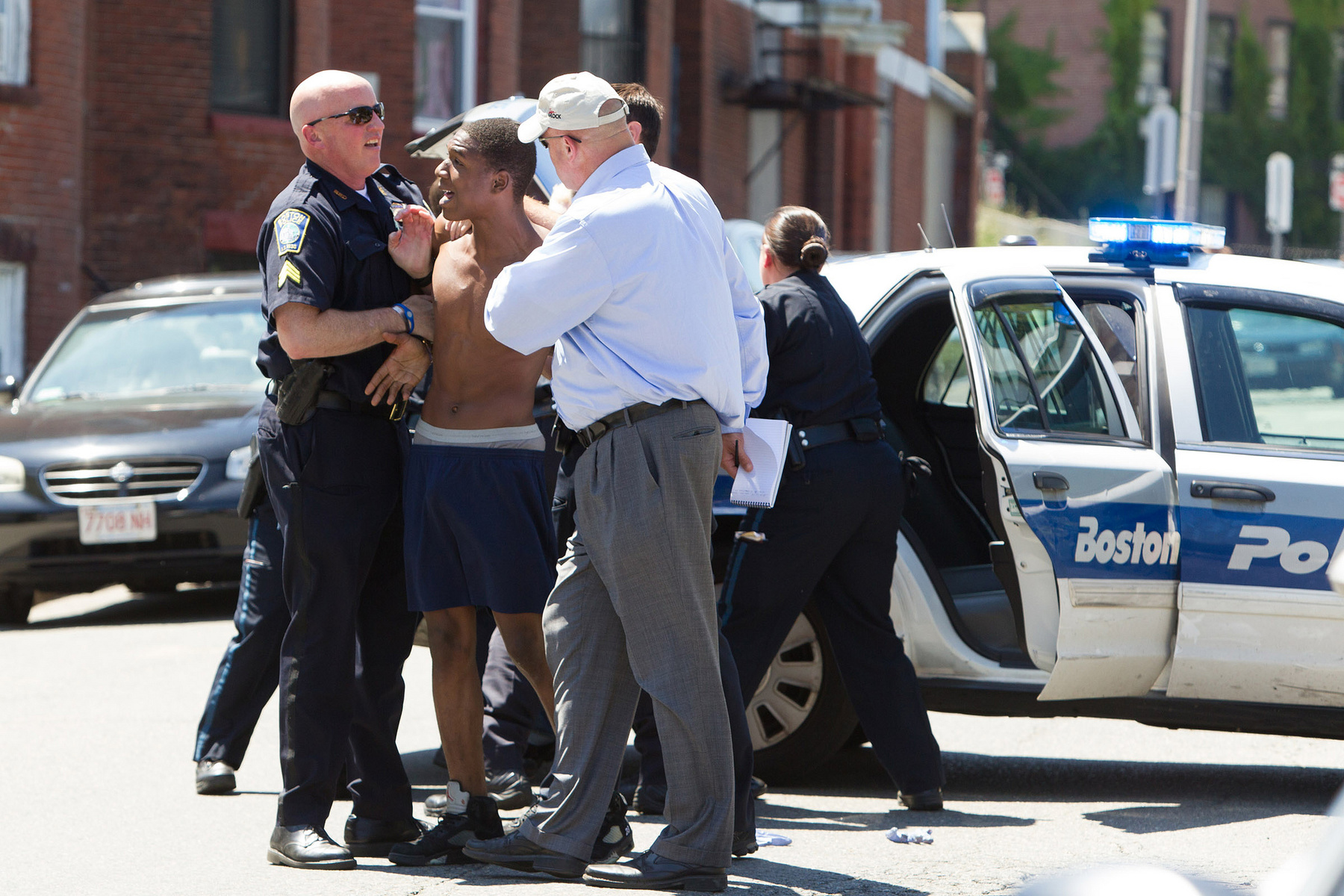 Boston, Mass. - Police officers struggle with suspects at the scene of a triple stabbing that left one dead. The stabbing occurred very close to the set of Sandra Bullock's new movie, "The Heat," which is being filmed in the Roxbury neighborhood of Boston.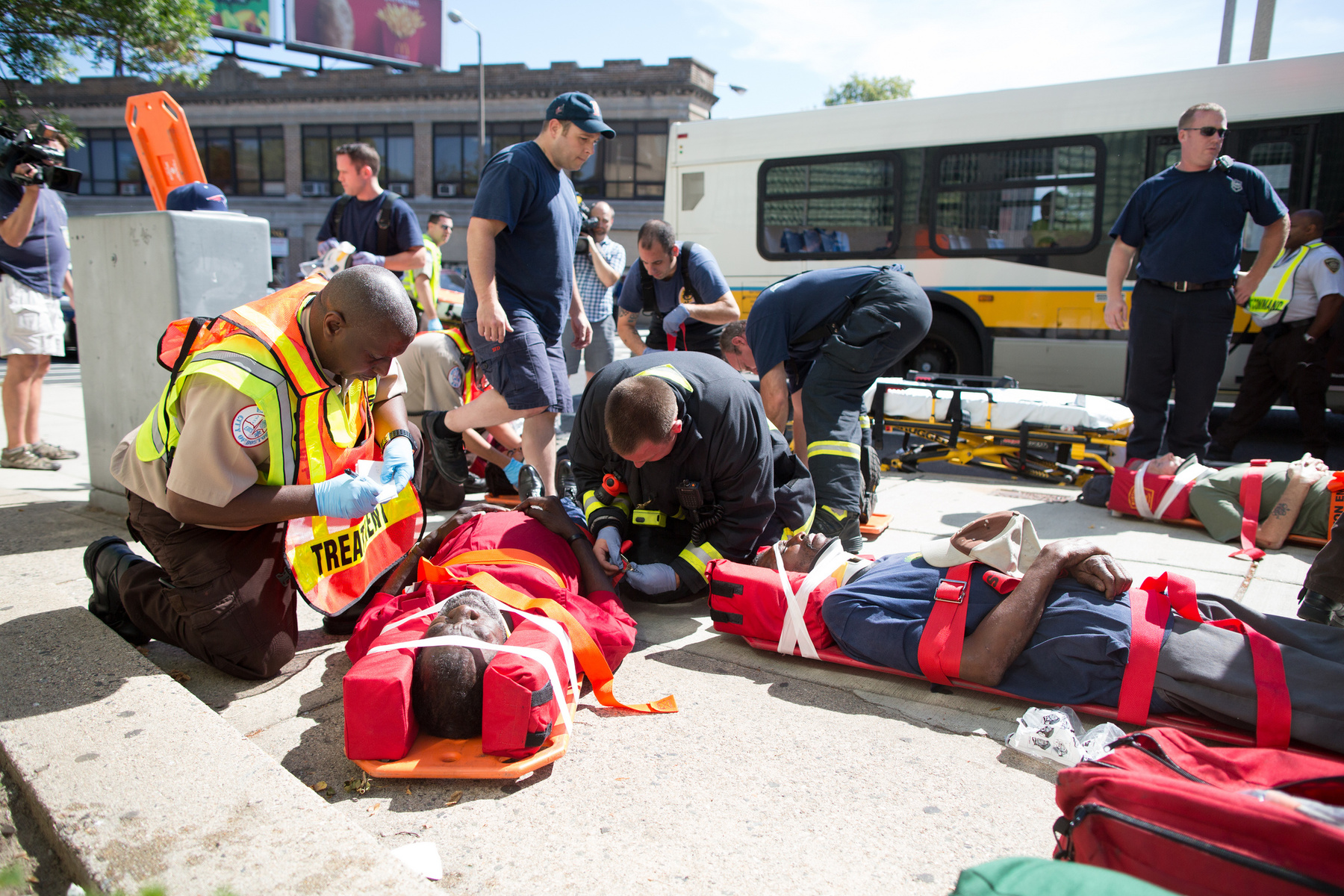 Boston, Mass. - Victims are treated and packaged by Boston EMS after a MBTA bus crashed into a tractor trailer that was part of the movie set of "The Heat" which stars Sandra Bullock on July 9, 2012. 15 people including the driver were transported to local hospitals after the crash.
Former President Bill Clinton listens as Chicago Mayor Rahm Emanuel addresses the Clinton Global Initiative (CGI) meeting in Chicago, Thursday, June 13, 2013. During this opening session, politicians and business leaders to discussed new ways to achieve economic and social mobility.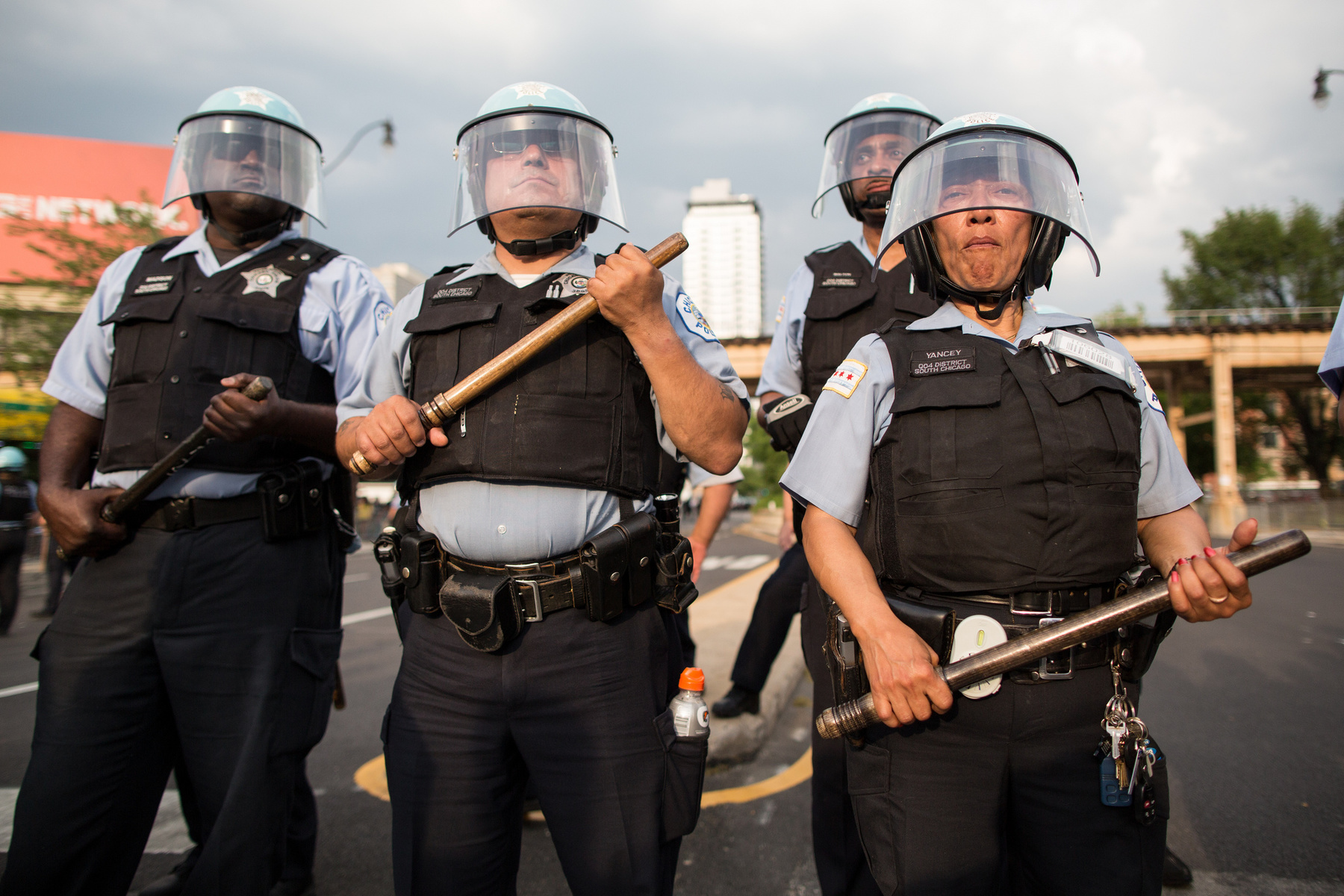 Chicago, Ill. - Riot police prepare for confrontations with protesters during an Anti-NATO march during the 2012 NATO Summit.
Chicago, Ill. - Protesters sit infront of riot police during a Anti-NATO protest during the 2012 NATO Summit.
A worker walks underneath the electromagnet as it moves down Butterfield Road in Glen Ellyn, Ill., Thursday, July 25, 2013 enroute to its new home outside Chicago on Friday. The electromagnet is 50 feet wide, weighs more than 15 tons and has taken a month to transport 3,200 miles from New York to Illinois.
Henryville, Ind. - A school bus is shown partially inside a Diner after a EF4 tornado blew it across the street from the school on March 2, 2012. Children were onboard at the time.
Henryville, Ind. - A woman sits in front of her belongings after a EF4 tornado destroyed much of the town on March 2, 2012.
Marysville, Ind. - A man sorts through the wreckage of his residence in search of his personal belongings. A EF4 tornado destroyed the small, rural town on March 2, 2012.
Killington, Vt. - Extreme flooding from Hurricane Irene destroyed many roads and isolated this gas station from the highway.
Killington, Vt. - Damaged roads and a downed tree on a car after Hurricane Irene caused major flooding in Vermont.
Plymouth, Mass. - Massachusetts Governor Deval Patrick rolls dough while making Challah bread at Hearth Wood Fired Bread Company on March 8, 2012.
Springfield, Mass. - Debbie Alexander of Springfield explains how she survived the tornado outbreak in Western Massachusetts. The roof and most of the second floor of her home was ripped away by a tornado.
Springfield, Mass. - The bedroom of Debbie Alexander after being hit by a tornado. Traffic can be seen lining the roads outside.
Boston, Mass. - Members of the Occupy Boston movement march through the Downtown Crossing area of the city during the first night of their occupation.
Boston, Mass. - A member of the Occupy Boston movement stands atop the entrance to the Boston Federal Reserve Bank while others raise their fists in solidarity.
Boston, Mass. - A member of the Occupy Boston movement gives a lewd gesture to the Boston Federal Reserve Bank.
Boston, Mass. - Boston Special Operations officers struggle to arrest a member of the Occupy Boston movement after the encampment expanded to an off-limits area.
Boston, Mass. - A man who attempted to place former Secretary of Defense Donald Rumsfeld under citizens arrest is escorted out during Rumsfeld's event at the Old South Meeting House.
Boston, Mass. - President Barack Obama delivers a speech at a campaign event for his 2012 re-election campaign.
News